Featured Call of the Month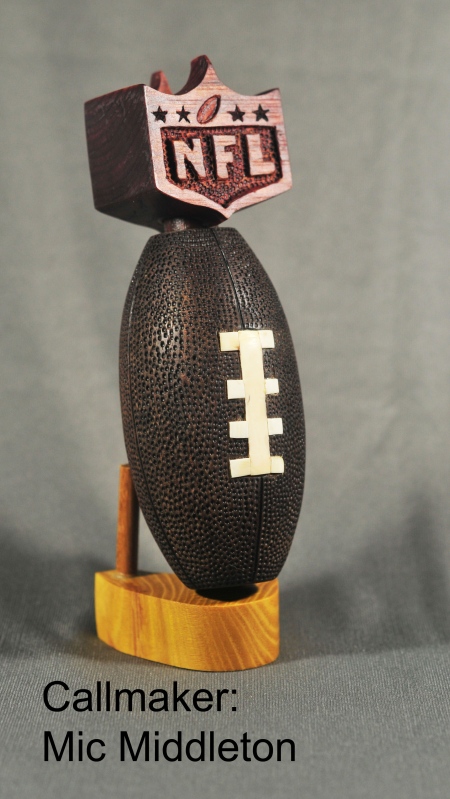 Mic Middleton
New Athens, Illinois
As NFL football season comes to a close with the Super Bowl this month, there's no better time to have this football themed call as the February call of the month. Mic Middleton is the call maker that crafted this very creative piece of duck call art. Congrats to Mic on being selected for the call of the month!

President's Note
The NWTF Grand National call making competition in Nashville at the Opryland hotel just concluded. What a phenomenal display of creative and artistic talent in the call making world all at one location! It is always an impressive turnout for call makers and call collectors alike. Always a lot of smiles and great comradery to be seen in Nashville. Attendance for that show always seems to be increasing, as well as the level of craftsmanship of the call makers. Congrats to Dave Constantine, Brad Samples, and Mike Stelzner for being the 2017 Grand National Champions in the Decorative Turkey, Decorative Duck, & Hunting Duck/Goose divisions.

We are right in the heart of call makers competitions. For the turkey call makers, there are a couple of competitions on March 11th. See the calendar of events on our website for more info on these events. Good luck to all of the participants!

For the duck call makers, the next big competition of the year for fancy calls is coming up at the end of April. It is the CCAA's Fancy Call Competition at St.Charles, IL on April 27th & 28th. Get to work on those competition calls now, as the entries are always top notch! For details on the rules for this contest, visit the Call Contest tab on the website.
It's time to start working on articles for the March edition of the newsletter. If you would like to submit an article or some pictures to be in this newsletter, fill out the following form and it will be received by our Editor Eric Nelson. submit article link

Cheers,
Brian Byers
President