Featured Call of the Month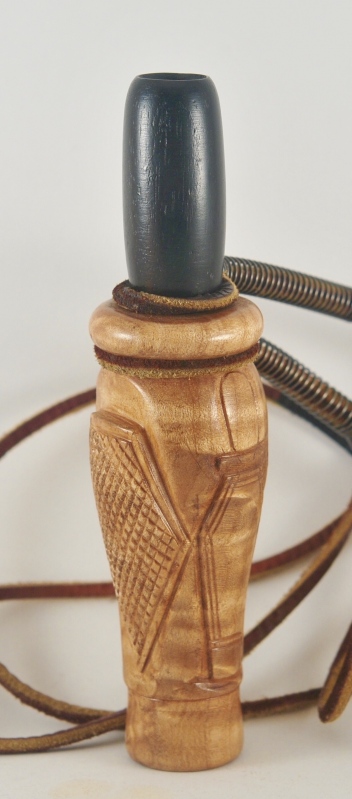 Jim Pickle
Jonesboro, Arkansas
You may have heard of O.K. "Pop" Pickle, that made highly sought after duck calls from Arkansas in the 1930's. Jim is the grandson of Pop Pickle, and continues the family legacy of making duck calls in a similar style that his grandfather made back in the day. Each of Jim's calls are marked with a hand engraved pickle logo. Jim makes just a few calls a year, and each is a treasure to everyone that has one!

President's Note
Another great show at Reelfoot is in the books! Thanks to Mike Hayes at the Blue Bank http://www.bluebankresort.com/ , for hosting the Fin and Feather show at his resort. The atmosphere at the Blue Bank is perfect for a relaxing weekend while being around some very nice duck calls. Congrats to Brad Samples, for winning the Best of Show at the CCAA Working Call contest. Other first place winners were Ryan Roosa in the Metal Reed, Travis Bone in the All Wood, Rob Zuttermeister in the Acrylic, and Brad Samples in the Open division. There were many great calls to be had, and lots of happy folks after the show that were showing off the calls that they picked up. Lots of smiles and laughter all weekend long, and that just goes to show that this show never disappoints.

The next big show coming up is the NWTF's Grand National call making competition in February at the Opryland Hotel in Nashville. The prize money this year has been raised, so the stakes are higher for the call makers. Then following that show in April is the CCAA's Fancy Call Competition at St.Charles. Get to work on those competition calls now, as the entries are always top notch!
It's time to start working on articles for the Winter edition of the newsletter. If you would like to submit an article or some pictures to be in this newsletter, fill out the following form and it will be received by our Editor Eric Nelson. submit article link

Cheers,
Brian Byers
President