2010 Results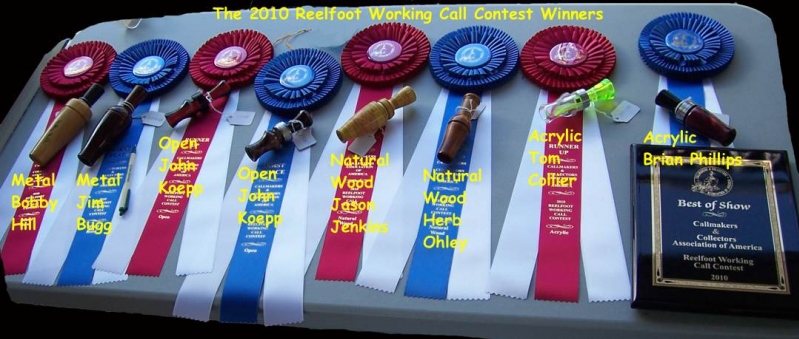 The CCAA Working Call Contest for 2010 was staged on the shores of Reelfoot Lake on October 9. The contest was held in conjunction with the 21st Annual Reelfoot Waterfowl Festival, sponsored by the Reelfoot Lake Callmakers and Collectors Association. The Reelfoot Festival provides the CCAA with booth space during the weekend for contest call registration and display. Our thanks goes to that organization for providing us with a great venue to promote our working call contest.
The sign-up table was a busy place on Saturday morning as 39 callmakers entered 75 calls for the judges review and scoring. The calls were classified in four categories; metal reed, natural wood, acrylic, and open classes. The judges' scored each call in five areas - hail call, feed call, comeback call, quacks, and overall tone. Serving as judges for the event were call collector James Bennett, Reelfoot Lake guide Randle Flowers, and callmaker Scott Simmons. An experienced caller was used for each division. The metal reed calls were showcased by former Grand National champion, Tyler Hopper. The natural wood (plastic reed) calls were put through their paces by callmaker and hunter Ronnie Turner. The acrylic calls were demonstrated by outfitter and contest caller Jace Porter. Each open class was given a good workout callmaker and lifelong hunter Brian Phillips. All observers of the event agreed that this group of callers "got the best" out of each and every call. Other volunteers helping with the contest were Benjamin "Bear" Lyle and Billy Hays. Bear served as observer and kept the scorecards in order, Billy served as the "call master" and kept the contest moving along.
The division winners were awarded to the call with the highest combined total score, tie scores were broken by a tie breaker system starting with the hail call score. The four division winners were again presented to the judges by Ronnie Turner to determine the Best of Show call and maker. The competition was eventually determined by a tiebreaker score.
First place calls judged for Best of Show

Acrylic call - Best of Show - Brian Phillips 133(27)
Natural Wood call - Herb Ohley 133(26)
Open call - John Koepp 130
Metal Reed call - Jim Bugg 128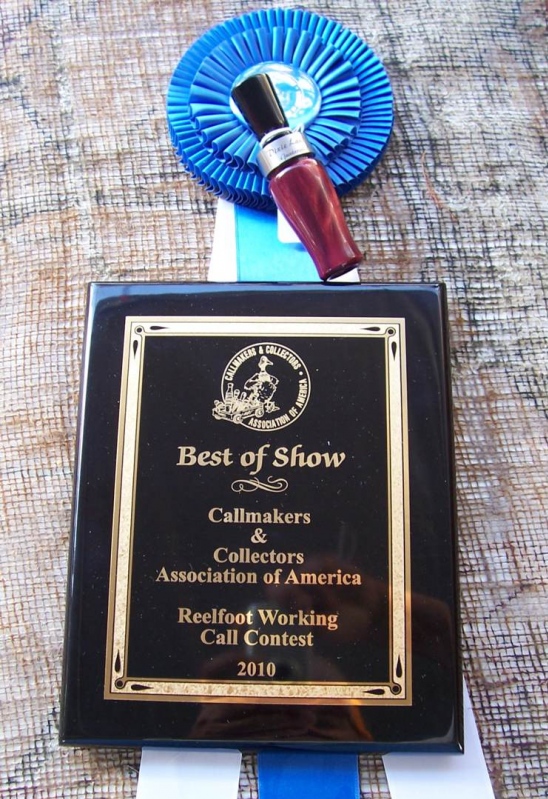 Contestants and scores by division:
| | | | |
| --- | --- | --- | --- |
| Metal Reed | Natural Wood | Acrylic | Open |
| Jim Bugg 128 | Herb Ohley 127(28) | Brian Phillips 130 | John Koepp 111 |
| Paul Kaiser 123 | Jason Jenkins 127 (27) | Tim Collier 127 | John Koepp 110 |
| Danny Bignar 122 | John Koepp 127(25) | Bobby Hill 123 | Aaron Smith 107 |
| Benjamin Lyle 120 | Brian Byers 122 | Brian Byers 116 | Kacey Hyer 106 |
| Randy Stoeber 116 | Bobby Hill 121 | Bob Wiseman 116 | Brad Samples 104 |
| Benny Floyd 115 | Brian Phillips 118 | John Koepp 115 | Ronnie Turner 104 |
| Chris Paris 112 | Benjamin Lyle 116 | Cody Rodriquez 107 | Pat Tully 103 |
| Paul Kaiser 110 | Ron Gould 113 | Brad Samples 105 | Ron Dowda 102 |
| Billy Hatch 108 | Travis Bone 113 | Jack Lewis 103 | Travis Bone 99 |
| Wes Townzen 106 | Tim Collier 112 | Billy Hays 103 | Clinton Wolford 96 |
| Amy Kaiser 105 | Travis Ward 109 | Jack Lewis 98 | Ronald Laun 96 |
| Jim Bugg 104 | Ron Dowda 109 | Jacob Hyer 94 | Herb Ohley 93 |
| Leonard Douglas 104 | Brad Samples 109 | | Herb Ohley 93 |
| Bobby Hill 103 | Billy Hays 108 | | Pat Tully 85 |
| Justin Arbuckle 102 | Jacob Hyer 107 | | Richard Kaiser 72 |
| Joel Harris 98 | Pat Tully 106 | | |
| Brad Samples 96 | Bobby Hill 104 | | |
| Jared Kaiser 92 | Clinton Wolford 104 | | |
| Ron Dowda 90 | Paul Francis 103 | | |
| Paul Kaiser 82 | Wes Townzen 100 | | |
| Billy Hays 81 | Paul Kaiser 89 | | |
Thanks to all the contestants for their participation. Bob Wiseman